Hair curlers are the perfect solution for an infinite number of times when we women want to look as good as possible. Whether we are getting ready for a special occasion or we want a simple hairstyle for a normal working day, we can always resort to this device that can offer rapid and lasting hairstyles.
A high-performing hair curler is not used by modern women only on special occasions, but it is useful in any situation when we want to look perfect and feel good in our skin. No need to resort to sophisticated hairstyles whenever you use this device because it can be used without problems for daily arranging.
Using a curling iron, you'll get volume and texture which you've always wanted for your hair flat. If you already have curly hair, this device will help to keep the frizz and curls in a very quick and efficient manner.
When choosing a curling iron you need to consider certain important things. First, look at the material it is made of. In short, stay away from curling metal that can burn and ruin your hair in a very short time. Look for ceramic or tourmaline coated devices because they retain and distribute temperature evenly hairs in contact with, while generating negative ions that protect the shine and health of your hair.
Another important thing you need to remember when you are looking for the perfect curling iron is regarding to the safety device. Such a device can achieve temperatures greater than 200 degrees Celsius, which may cause unwanted accidents. First, make sure your curler has an automatic stop function and / or comes equipped with special gloves to protect your hands during use.
It would also be good for the device to have a temperature control through multiple settings, but also an ergonomic design that allows quick and easy use even by women who have never used a curling iron before.
Top 5 best Hair Curlers in 2016
Considering the above, we carefully analyzed the curler offers, and created a top 5 of the best hair curlers made by renowned manufacturers worldwide, products that will provide the best results possible. Learn the advantages and disadvantages and make the right purchasing decision, in full knowledge of the facts.
#1 BaByliss 2665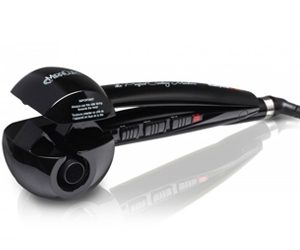 It's perfect for getting the professional curling iron curls which I've always wanted. Although the device is addressed mainly to professionals or hair salons, it can be used without problems for personal use as well.
It has three settings with audible indicator for different curl effects, 3 heating settings, on / off button with light indicator, Sleep Mode system that automatically stops after 20 minutes, anti-lock and Technology New MaxLife Pro system , which offers a durability of up to 10,000 operating hours.
Advantages and disadvantages
The device is one of the most popular around the world, women who have tried it valuing greatly the life of components, the fact that it saves time and energy due to rapid heating, comfort of use thanks to its ergonomic design, and the great results they provide whatever type of hair that it is working upon.
A disadvantage may be the purchase price, which is not very accessible. But if you want quality, performance and durability in such a device, you'll discover that financial investment is more than justified.
#2 BaByliss Curl Secret C1100E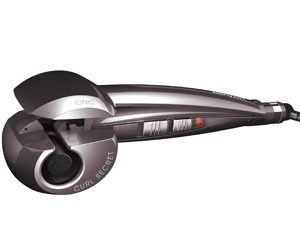 It is another device in the BaByliss range, very popular among women worldwide. BaByliss Curl Secret C1100 is equipped with the latest technology that provides professional results whatever experience you may have, the environment in which you use or hairstyle that you desire.
The device has three time settings (8-10-12 sec.) For various curl effects, the Smart Tech system incorporates lower power consumption, automatic shutdown, "sleep" mode and a motion sensor . The heating of the device is produced instantly, and the temperature can easily be adjusted with the help of two settings, or 230 to 210 degrees Celsius. At the same time, this hair curler has 3 settings for direction: left, right and alternately.
Advantages and disadvantages
Women who have tried this device were thrilled by the results gotten on even rebel, thick and rigid hairs. Moreover, thanks to the ceramic elements, hairstyles made using this curler last much longer than using other similar devices, which can only delight us.
In terms of disadvantages, here we can mention the high enough cost of purchasing, but we found online offers with significant price cuts, the device being available at a quality / price ratio than attractive.
Also, the minimum operating temperature of 210 degrees Celsius can be a disadvantage if you know you have very thin and very sensitive hair. Otherwise, if your hair does not have special problems, the Curl Secret C1100 curler will surely provide the much dreamed curls.
#3 Braun EC2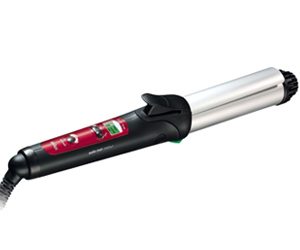 It is the ideal device for women with colored hair because it is specifically designed to protect against the loss of hair color obtained after dying.
The Braun EC2 curler protects up to 50% better dyed hair than other similar devices in his range, is equipped with precise settings for temperature, ceramic coating and an ion generator superior as performance to any other product from the Braun range.
The device heats up in 60 seconds, turns off automatically after 30 minutes and has a 2 meter cable, enough for quick handling at home.
Advantages and disadvantages
The thing that differentiates it from other classic hair curlers is also the most important advantage of Braun EC2: it protects dyed hair very well. If you want to get a more natural glow for your hair color while preserving its health and naturalness, this is the device for you.
Braun EC2 is not available at a very affordable price and the durability of its components has been criticized by some clients who had less pleasant experiences. But these problems are resolved, if they appear, by the manufacturer's warranty.
#4 Remington CI9538 Curling Wand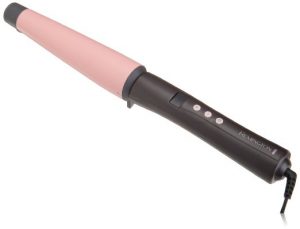 Remington remains one of the top manufacturers of personal care devices, being preferred by women for a value for money especially satisfactory.
This model is equipped with three accessories that let you take control of your own style, no longer having to go to the salon and pay for the hairstyle that you desire.
The device has three settings for temperature, it heats in just 30 seconds, it has a ceramic with tourmaline coating, it has cold peak for your protection, the system to automatically stop and a storage bag that can be used easily and for transportation.
Advantages and disadvantages
The most important advantage of this device is the multitude of options offered through numerous accessories that it comes with. Overall, you can attach no less than 9 accessories that give you great freedom in choosing a hairstyle. Add the affordability and quality assurance of Remington and you get a product that surely will not disappoint you.
Its disadvantages are represented mainly by lack of latest generation technologies that you find in the two models above, but the model from Remington has all the basic functions and comes with a host of accessories, making it perfect for women who love diversity.
#5 BaByliss Pro 2369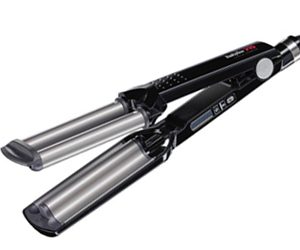 It is a triple hair curler, packed with anti-static negative ions which allow the lowering of tension at the base of the hair, giving more sparkle and an increased feeling of softness.
The curler also has a special coating of titanium and tourmaline working to protect the hair against damage that may arise from frequent uses.
The device is heated rapidly to 210 degrees Celsius, and the temperature can be set easily according to your preference using the 5 steps.
Advantages and disadvantages
BaByliss Pro 2369 is a device very appreciated by women due to the anti-static properties of the negative ions it generates, property which makes hair silky, soft, shiny and healthy. Its price is an affordable one, and the results it provides is more than satisfactory.
The drawbacks mentioned by women who have used this model include the curler's poor quality of components which can fail when used intensively and lack the technological facilities found in other models in the BaByliss range.
Other Quality Curling Irons
The list of the best hair curlers in the world cannot stop here, since there are so many to choose from. Therefore, we have added the top two devices approaching as performance and quality those above.
BaByliss Pro 2225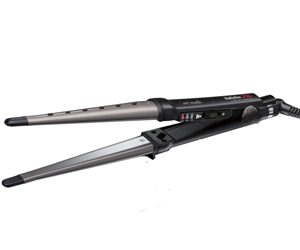 It is the smallest BaByliss hair curler presented in this article, which does not mean that it deserves to be too easily overlooked. It has a coating of titanium and it is addressed primarily to professional users. It has a Sol-Gel technology, used for sliding quicker on the hair, a light indicator, a modern and attractive design, 3 steps of temperature, a cold peak for protection and a system for locking plates.
Advantages and disadvantages
Among the advantages it offers we find the possibility to offer more types of hairstyles (straight, loops, volume, curly), the protection it gives the hair against breakage through the Sol-Gel technology, but also the rather low purchase price.
Its disadvantages are that its technological features are fewer and unimportant compared to the models listed above, and some women who have used this hair styler mentioned that the sustainability components is not satisfactory, even if BaByliss is a manufacturer known for the performance of its devices.
Rowenta CF4132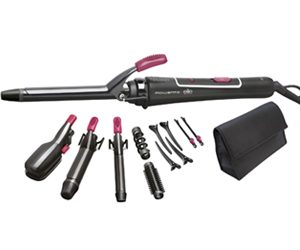 It is a hair styler that has no less than 14 accessories for seven different hairstyles.
If you like diversity when it comes to your hairstyle, you will definitely appreciate this curler.
Accessories can be changed fast and easily, and the device has a ceramic coating that gives hair shine and reaches a maximum temperature of 230 degrees Celsius.
Advantages and disadvantages
Its price is considerably lower than in those listed above, it offers great freedom of choice through the given 14 accessories and is suitable for all hair types. These advantages are important things that you have to take into account when making the purchase decision.
Its disadvantages are the lack of cutting edge technologies meeting those of the above models and the quality of materials and components, unsatisfactory when it comes to sustainability.
Advice and recommendations
If you are looking for a device that will give you the highest quality results and outstanding performance, we recommend with confidence the BaByliss 2665 model, this professional curler is sufficiently high-performing to satisfy your every need in terms of hairdressing, no matter how picky you are.
If you want to invest modestly into a device that does not disappoint you through performance and durability, then our recommendation goes to Remington Style Your CI97M1 a device recognized for the value for money that delights users worldwide.
Have you ever used one of the devices listed above? Do not hesitate to share your opinion in the comments section below.